Recorded Webinar: How Matrox IP KVM Solves the Challenges of Your Distributed Workforce
With organizations across industries forced to reimagine their remote operations, IP KVM extension and switching can offer an optimized remote working experience. With a high-performance IP KVM solution, users can connect to, share, and manage systems and applications as they would on-premises. Is your organization looking to expand its distributed workforce programs and reach beyond the limitations of the traditional office environment? Discover how Matrox® Extio™ 3 IP KVM extenders – designed to ease integration and provide operational flexibility for information sharing, fast decision-making, and intuitive collaboration – are enabling employees with secure remote access to their workstations, systems, and specialized equipment over LAN, WAN, and internet. Join Matrox business development manager, Caroline Injoyan as she explores the challenges of remote operations and how Extio 3 can help to flexibly optimize operations across industries, including oil and gas control rooms, broadcast and post-production, military and defense, and AEC.
Presenter: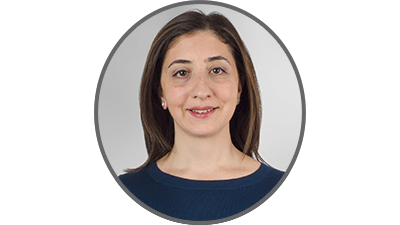 Caroline Injoyan is a Business Development Manager at Matrox Video.
With over 20 years of experience in the technology industry, Caroline has played a pivotal role in conceptualizing and managing award-winning product lines for multi-display video cards, graphics expansion modules, and KVM extenders. She brings to bear a wealth of strategic insight developing angles and applications for networked-products and control software, including Matrox's most recent innovations in IP KVM technology. Her technological and business acumen helped drive the development of Matrox® Extio 3 products, the world's first KVM extenders to deliver 4Kp60 4:4:4 at unprecedented low bitrates over IP connections.
A thought leader on topics in AV over IP, Caroline's broad experience ranges from product management and marketing to building strategic go-to-market plans for enterprise, post-production, digital signage, gaming and industrial sectors.
Hailing from Montreal, Canada, Caroline holds an MBA from Concordia University and a Bachelor's in Electrical Engineering from McGill University.
campaign_content_asset_code
:
20210421_Extio3_Solves_Challenges_of_Distributed_Workforce_VOD
product_family
:
extio3_series
marketing_note
:
This lead registered to watch the recorded webinar "How Matrox IP KVM solves the challenges of your distributed workforce" at https://video.matrox.com/en/media/webinars-podcasts/extio3-solves-challenges-of-distributed-workforce