Broadcast Developer Products
Software for Broadcast & Media
DSX Core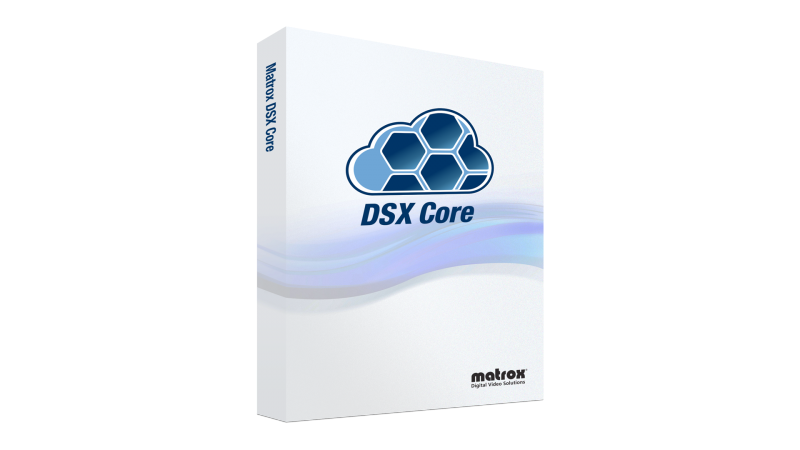 Matrox DSX Core includes the complete set of software modules for media processing OEMs need to create datacenter-friendly, virtualized IP broadcast solutions running on COTS machines that can be easily repurposed as needed. It is designed specifically for the cloud and provides built-in redundancy, disaster recovery, frame-accurate control for AV sync, and extensive file format support to ensure interoperability. It enables end customers to quickly deploy specialty or event-based channels without additional capital expenditure. The virtual framework maximizes ROI on existing systems while creating exciting new business opportunities.
Cloud-based media processing
Matrox DSX Core is a complete set of 100% software-only modules for media processing in virtualized broadcast infrastructures based on Matrox DSX SDK. Modules include versatile file reading and writing, a large selection of software codecs and video effects, IP streaming and a precise system clock. OEMs can easily build IP- and file-based video applications such as ingest and playout servers, channels in a box, encoders and transcoders for broadcasters and service providers to use in media datacenters.
Instant channel deployment
DSX Core uses a floating license scheme that lets users move their applications from one virtual machine to another, or even to different datacenters. Developers can create software-defined virtualized IP channel solutions on COTS machines with DSX Core and let customers quickly and cost-effectively deploy specialty and event-based channels. Such software-only broadcast solutions can be easily repurposed as needed without any additional capital expenditure. DSX Core has built-in fail-safe capability to ensure deployed channels run trouble free. It also comes with a redundancy license model to facilitate disaster recovery.
Accurate frame control
One of the important modules in DSX Core is the high precision system clock that can be synchronized using NTP (Network Time Protocol) or PTP (Precision Time Protocol) to a time server. It's designed to work in virtual machines to provide the accurate frame control and AV synchronization that is essential for real-time media processing in broadcast workflows.