Encoders & Decoders
Matrox Maevex 6020 Remote Recorder
Maevex 6020 Remote Recorder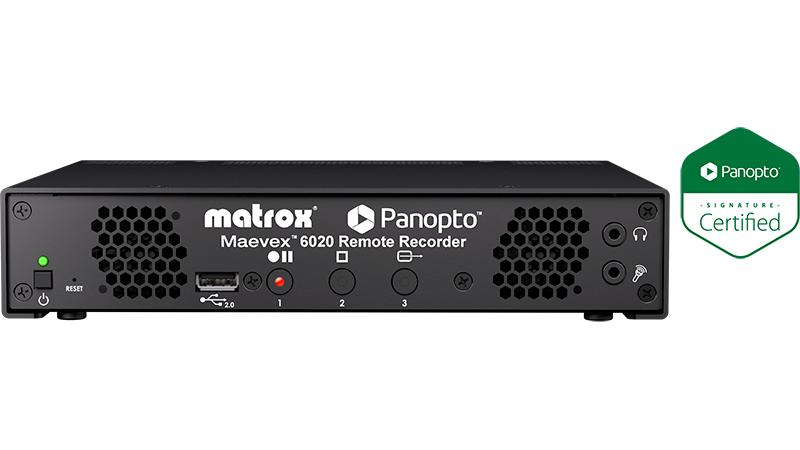 Signature Certified by Panopto. Guaranteed by Matrox.
The Matrox® Maevex 6020 Remote Recorder appliance is a Panopto™-Signature Certified live streaming multi-recorder specifically designed for—and fully integrated with—Panopto's industry-leading video management system (VMS). The best of Panopto's cloud solution—streaming, scheduling, and management—is available for the Maevex 6020. The Maevex 6020 Remote Recorder enhances the Panopto VMS solution by providing live streaming and recording functionality for businesses and universities.
Maevex 6020 makes it easy to live stream and record multiple simultaneous 1080p HD video sources. The recordings are encoded and ready for use without any quality loss or time loss—no cloud transcoding required. This makes the video available to your audience much faster, and at the highest possible quality.
Schedule video recordings and webcasts from anywhere using Panopto's easy-to-use web-based interface. All videos captured by the appliance are automatically published to Panopto's secure video content management system (video CMS), where they can be shared and played on any device.
Maevex 6020 Remote Recorder at a glance
Whisper quiet, 1U ½ rack form factor
Confidence preview & pass-through
Dual live stream and record in Full HD
Fastest VOD on the market
Seamless, full integration with the Panopto VMS
Control via on-device buttons and touchscreen controllers
Easy to set up and deploy
Matrox Maevex 6020 comes pre-configured to work as a Panopto Remote Recorder out of the box. Each unit is pre-built by Matrox and easily connects to your Panopto server through a one-time setup process: simply connect the appliance to your network, plug in your HDMI video sources, and you're ready to go.
Access video. Anywhere, anytime.
Maevex 6020 offers the easiest way to connect to the Panopto cloud VMS. Connect power, network, and video. Power up your device. And log in to your Panopto cloud account. From there, the secure Panopto VMS platform provides complete control and makes video management, recording, live streaming, inside-video searching, quizzing, analytics, mobile, and other features readily accessible.
When there are no active streams being broadcast, the two sets of recorded streams are delivered to the Panopto VMS simultaneously during the live event with only the slightest of lag from the start of the event as cloud transcoding is eliminated. If there are live streams being broadcast, the recorded streams are delivered immediately after the live streaming event ends, again with no cloud transcoding required. Additionally, in a single session, up to four sets of recordings (each set with multiple quality levels) and four Full HD streams can be enabled by combining two Maevex 6020 devices.
Control at the tip of your finger
It's never been easier to capture presentations, lectures, events, and more. Record, pause, resume, and stop all at the touch of a button. For first-time users and seasoned professionals alike, the Maevex 6020 Remote Recorder delivers a simple video capture and streaming experience.
Compact design. Whisper quiet operation.
Support up to two 6020 remote recorder appliances from a single U of rack space, housed in a ½ rack size width means. Place the appliance on any rack mount, under a podium or desk, or anywhere you need.
With low power usage and whisper-quiet operation, this purpose-built device is ideal for any campus, enterprise, conference room, mobile application, or other environments that require a noise level of 25 dB and less.
Low maintenance. Hassle free.
Low maintenance and fully autonomous, this dedicated appliance requires no third-party or operating system control, so presentations and scheduling will never be affected by unexpected system updates or reboots. Recordings of multiple resolutions per channel are recorded simultaneously to the device's solid-state drive (SSD), ensuring your recordings aren't lost in case of network failure.
Device status at a glance
Know the status of the Maevex 6020 Remote Recorder at all times with the Kuando Busylight (sold separately). The colors can be customized through Maevex software.
The Panasonic® Customer Assurance through Remote monitoring and Enhanced Service (CARES) program features built-in support for Maevex 6020. This integration allows organizations to monitor and maintain both Panasonic and Maevex 6020 products, maximizing uptime and minimizing disruptions.
Always powered. Always on.
Safeguard against a potential loss of power. Matrox makes available rack-mounted, multi-output redundant power supply units (RPSU) to ensure uninterrupted operation of your Matrox device in case of a power module failure and a redundant power input in case a circuit breaker trips.
Maevex 6020 Configuration and Firmware Utility
Use the Maevex 6020 Configuration and Firmware Utility to configure your Maevex 6020 remote recorders in 3 quick and easy steps:
Locate all the Maevex 6020 devices automatically or manually.
2.Use your Panopto account information and credentials to configure the units.
3.Update the settings.
1-2-3 and done!
Once the Maevex 6020 devices are configured, and a connection is created to the Panopto Cloud VMS, communication between the two happens automatically. Seamless integration with the Panopto platform means you can find and manage the Maevex 6020 devices as remote recorders from within the Panopto application.
Easy APIs for ultimate control and flexibility
The Maevex 6020 Remote Recorder RS-232 API is a simple, RS-232 communication-based API that allows universities, enterprises, IT departments, and third-party AV integrators to program for convenient in-room control of the Maevex 6020 appliance via Crestron™, Kramer™, Extron™, or other tabletop touch-screen controllers. Users can program a variety of basic commands including start, stop, pause, resume, extend status, and reboot.
Need even more control of your devices? Use the Maevex Remote Recorder 6020 REST API to retrieve status updates from all Matrox Maevex 6020 devices on the network.
Product
Part Number

MVX-RR6020-P

Form Factor

Standalone appliance

Rack-mountable: 1U, 1/2 rack (horizontal)