Accessories
Power Supply Units
Matrox NRG Redundant Power Supply Unit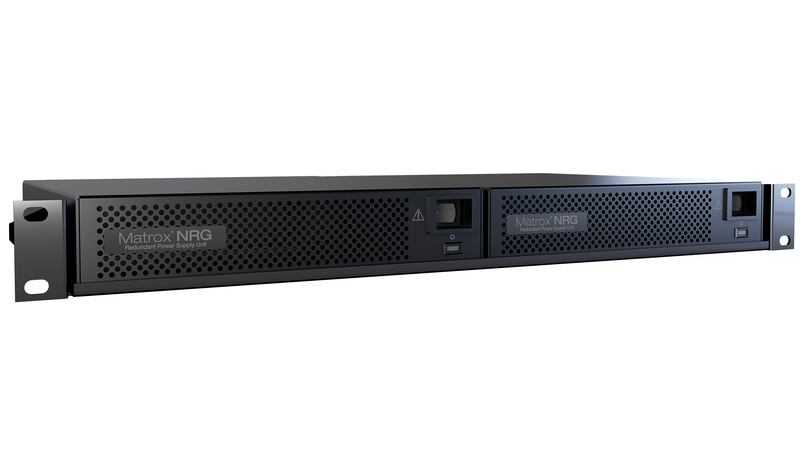 Powering multiple devices with a single RPSU
Matrox NRG is a multi-output redundant power supply unit (RPSU) that comes pre-installed on a rackmount shelf. The RPSU includes two hot swappable power supply modules and provides uninterrupted operation in case of a power module failure, and a redundant power input in case a circuit breaker trips. The NRG RPSU also features IP connectivity for status monitoring and output control. One NRG device can power up to five Matrox devices simultaneously.
Pre-installed on a 1U rackmount shelf.
Standard 1 RU, ½ rack width form factor.
Includes two redundant power modules (300W each).
Hot swappable.
Power up to five Matrox appliances simultaneously.
GPIO port to signal error condition.
10/100Base-T for remote monitoring and controlling via management software or web browser.
Recessed rocker switch to turn the device on and off.
Device status LEDs.
Pre-installed and rack mountable
Single density
One NRG redundant power supply unit comes pre-installed on a 1U rack shelf, which can also hold a second ½ width RU (Rack Unit) Matrox device. The shelf is designed to fit standard 19" (48.26 cm) racks.
Dual density
Two NRG redundant power supply units come pre-installed on a 1U rack shelf. The shelf is designed to fit standard 19" (48.26 cm) racks.
Full redundancy for up to 5 devices
Matrox NRG includes two field-replaceable redundant power supply modules of 300W each. If one of the power supply modules fails, the output load will be completely supported by the second power module. The modules deliver hot-swap functionality, so you can replace an individual power module without interrupting the 12 volt outputs of the NRG. Automatic load balancing ensures even usage of both power supplies and extends the life of each.
Device monitoring and control
Monitor the status and control the outputs of the power supply unit remotely over IP. Through a convenient password-protected and HTTPS encrypted web interface, you can turn individual 12V outputs on and off and monitor check the status of each power supply module. An independent GPIO can also be used to monitor power module failures. The device also features LEDs that provide the status of each 12V output and AC input.
Fully compatible with Matrox products
Matrox NRG redundant power supply units support a wide range of Matrox appliances.
Product
Part Number

NRG-5-1DB

NRG-5-2DB

Form Factor

Rack-mountable: 2 NRG units = 1U (horizontal)