Video Wall Products
Matrox Mura IPX Series
Mura IPX 4K IP Decode & Display Series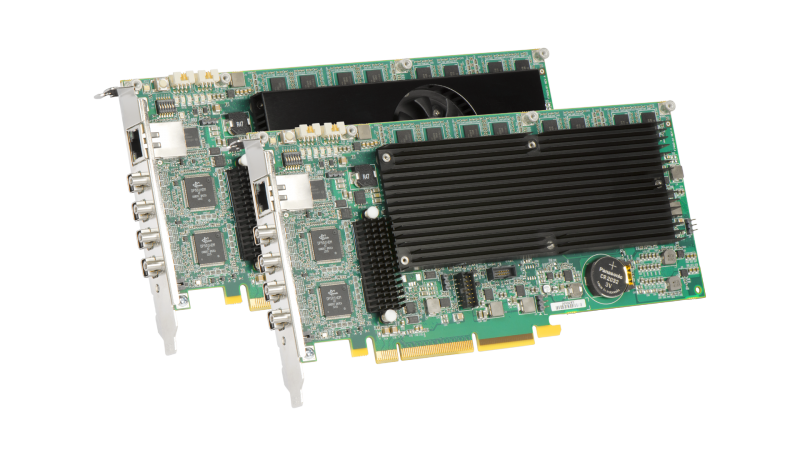 Matrox Mura IPX Decode and Display Series
Matrox Mura™ IPX 4K IP decode and display PCI Express® cards offer a platform for OEMs and system builders to create high-quality, high-density IP-based multiviewers and personal video walls. With four DisplayPort™ outputs capable of powering four 4K displays, the Mura IPX decode and display card is effectively capable of running a multitude of streams on a 8K wall; ideal for control rooms, security situations, digital signage, stream review, and other applications requiring high-density decode and display. 
4K IP Decode & Display Card
Part number: MURAIPXO-D4LF
IP Decode and Four Outputs (4x 4Kp30)
4K IP Decode & Display Card (Fanless)
Part number: MURAIPXO-D4LHF
IP Decode and Four Outputs (4x 4Kp30)
Industry-leading multiviewer control
Matrox Mura IPX decode and display cards empower integrators to create IP-based 4K multiviewers and personal video walls.
Optimized for performance, Mura IPX provides options to allow greater flexibility in integration while also offering enhanced thermal reliability. Through the integration of low-footprint Mura IPX decode and display cards, video wall controllers, multiviewers, and personal video walls can be built to the scale required for specific projects.
With this broad feature set, Mura IPX decode and display cards can be used in control rooms, process monitoring, and security applications that require high-density decode and precise stream control.
Multi-source DisplayPort outputs for video display
Benefit from IP decoding and the flexibility of four DisplayPort outputs on a single-slot PCI Express card for simplified integration and cost savings. Allowing for 4K video display in 32-bit color on up to four 4K displays means the Mura IPX decode & display card can create stunning video walls running at an effective 8K resolution.
High-density H.264 decoding
Mura IPX has been engineered to offer world-class, high-density H.264 decoding capabilities for use in virtually any decode application. Specifically, Mura IPX aims at the primary applications of high-density H.264 codec processes including:
Resolution and number of streams decoding for numerous multiviewer applications, ranging from the decode and display of a high number of IP sources from two 4Kp60, four 4Kp30, eight 1080p60, sixteen 1080p30, or a multitude of SD channels.
Quality decoding through the support of desktop-grade, high-frequency content. Not requiring color space compression, Mura IPX allows for perfect desktop sharing and recording applications on content as detailed as only one pixel thick.
Intuitive Matrox MuraControl software allows the management of Mura IPX display-powered multiviewers from a console system or remotely using the MuraControl for Windows® software. The Matrox Network API allows for command-level control that can be used through Telnet, RS-232, and HTTP/HTTPS.
Added functionality specifically for multiviewer applications has been integrated into the cards, with text overlay to indicate window titles, stream sources, locations, or zones, and onscreen clock providing a temporal reference for accurate stream monitoring both available through MuraControl for Windows and the Network API.
Matrox video wall products are supported in numerous non-validated, COTS motherboards and systems but a select few of these solutions have been thoroughly tested, verified, and validated by Matrox Video. Choosing a validated platform guarantees a high-quality solution to drive your display wall systems. 
Matrox MuraControl software and APIs
Easy-to-use video wall management software
Matrox MuraControl video wall management software provides an easy and intuitive way to manage your Matrox-based video wall, multiviewer, or personal video wall locally or remotely. Available as a feature-rich, single-license software for Microsoft® Windows®, MuraControl can be used to create and manage layouts offline or in real time.
Matrox Mura SDK and re-branding options
Matrox Video offers a complete range of software, APIs, and libraries that allow OEMs and developers to build personalized applications or interfaces based on project needs. White-label options allow for easy re-branding of Matrox Video software with enterprise naming, logos, colors, and identity for complete corporate integration.
Technical Specifications
Product
Part Number

MURAIPXO-D4LF (4x Mini DisplayPort, fan sink)

MURAIPXO-D4LHF (4x Mini DisplayPort, fanless)

Bus Interface

PCIe® x16 mechanical, x1 electrical (power only)