Encoders & Decoders
Matrox Maevex 6100 Series
Maevex 6100 Quad 4K Encoder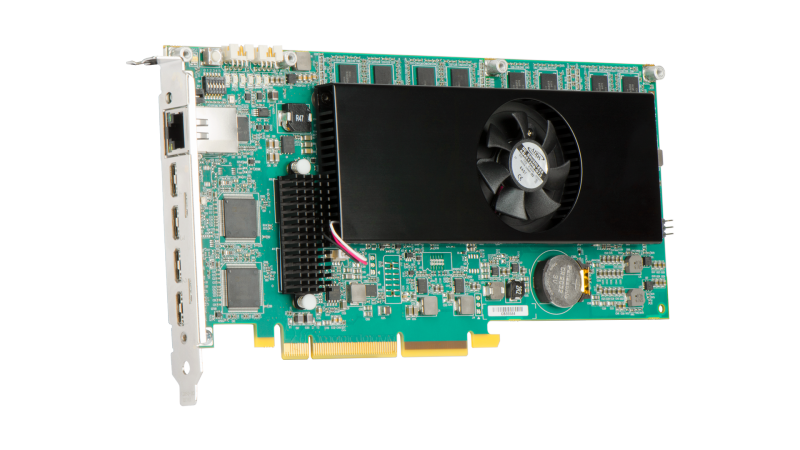 High density quad encoding
The Maevex 6100 quad 4K encoder delivers simultaneous quad 4K capture, encode, stream, and record—in a PC friendly PCI Express® form factor. The card pulls power only from the PCI Express slot and has its own Ethernet port, allowing it to be almost invisible to any PC and operating system. Use the Maevex 6100 card in existing spare slots for dense encoding. The complimentary Maevex SDK enables integrators to build new applications or integrate the functionalities of PowerStream Plus into existing applications.
Flexible 4K streaming and recording
H.264 advanced video coding
Centralized management via PowerStream Plus or APIs
Same power. Smaller footprint.
Drive four 4K/UHD and Full HD capture, encode, stream, and record—simultaneously from a single PCIe® card. A native network jack on the Maevex 6100 card eliminates reliance on the host computers' network. PC independence means there's no need for a driver and no system bus data transfer is required or executed—all processing is performed on the card itself. Streams and recordings are sent over the Maevex 6100's independent network connector, and only power is taken from the host system's PCIe bus. Maevex 6100 cards can be placed into available slots in existing systems without compromising system integrity and stability, and make minimal power consumption demands of the PC system.
Flexible protocols. Secure streaming.
Enjoy a variety of streaming protocols—HLS, MPEG2-TS, RTP, RTMP, RTSP, and SRT—for trouble-free streaming. Support for the Secure Reliable Transport (SRT) video transport protocol means that secure, low-latency, and high-performance streaming is also realized on noisy or unpredictable networks such as the public Internet. Whether you're dealing with a stable LAN connection, a limited WAN pipeline, or an unpredictable Internet transport, Maevex has the right streaming protocol for the job.
Benefit from up to 4K/UHD 4:4:4 sub-sampling support for best-in-breed encoding. The multi-chroma sub-sampling feature delivers 4:4:4, 4:2:2, 4:2:0, and 4:0:0 options, to best balance bitrate and compression demands of different encoding content, environments, and markets. User-definable bitrates and quantization parameters, as well as various encoding modes to optimize for desktop, low-latency, or image quality.
Highest density encoding
Work on multiple tasks in multiple settings and achieve multiple concurrent goals—all without sacrificing quality. Combine many cards in a single rack mount system to allow for the highest density of 4K streaming from a single PC-based system and delivered over standard 1 Gigabit Ethernet networks. This card delivers content to on-premises end points, over the LAN and internet, to different cities, countries and continents, and also records for later editing and viewing—all at the same time.
From cables and adapters to shelves and brackets, Matrox provides a range of hardware accessories that make connecting, installing, and securing your Matrox product quick and easy.
Product
Part Number

MVX-E6100X16-4

Bus Interface

PCIe x16 mechanical (PCIe x8 electrical)

Form Factor

Card:
Full height/ single-slot

Bracket:
ATX