Encoders & Decoders
Matrox Maevex 6100 Series
PowerStream Plus Software for Maevex 6100 Series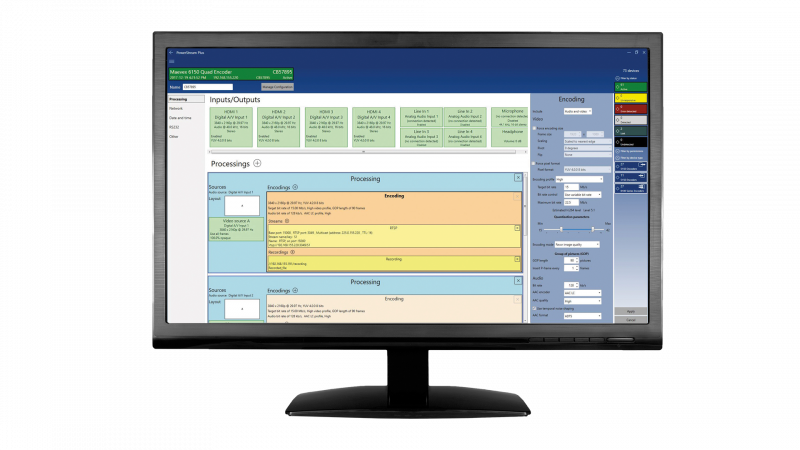 Complete Reach and Control
Discover, configure, and monitor all Maevex encoders and decoders anywhere on the network with Matrox PowerStream Plus software. PowerStream Plus provides full visibility and remote control of your entire infrastructure—zoom out for a macro-level overview of the Maevex topology, or drill in on a particular unit or group to fine-tune the parameters for each stream within the selection. This complimentary software supports Maevex 6100 Series and Maevex 5100 Series products.
Your entire Maevex network. At a single glance.
Discover Maevex units on the subnet automatically, or manually add units outside the subnet.
Adjust settings for multiple selected units and configure to the same parameters.
Manage and save favorite configurations and apply to other devices.
Use the PowerStream Plus SDK to integrate PowerStream Plus features into new or existing applications.
Deliver Simple Network Management Protocol (SNMPv2) support for network administration and management.
Configure and control devices. From anywhere.
Monitor devices in real time
PowerStream Plus software provides status updates so you can monitor all devices, streams, and recordings from a convenient user interface, accessible from single or multiple locations in real-time, anywhere on the network. You can also manage your workflow by organizing encoders and/or decoders into groups. A convenient dashboard provides device information and telemetry at a glance, enabling any issues to be quickly identified and resolved.
Configure and apply settings to multiple devices
Fine-tune encode/decode parameters and adjust bitrates for any stream.
Manage inputs and chroma subsampling pixel formats.
Choose preconfigured composite outputs such as multiple Picture-in-Picture (PiP) and quadrant composite options.
Adjust, scale, and crop content to suit different outputs and ensure pristine visuals for all transmissions.
Schedule recordings and access content on-demand
Record or schedule recording to a shared drive, NAS, or local storage. Access recorded content on-demand for later viewing.
Deliver content anywhere, anytime.
Access an unlimited number of streams through third-party technology like streaming media servers, content delivery networks (CDNs), and others, for complete control over each network installation. 
Manage user access, securely
Your Maevex environment is password-protected to ensure your installation is secure. Control what features users can access by establishing credentialed profiles for any system operator. You can also create and manage user authentication directly through Microsoft Active Directory Services.
Take control of software and firmware upgrades
Use the separate Maevex Firmware Updater tool to perform software upgrades to a single device or perform system-wide deployments to multiple devices. Streamline operational efficiencies by ensuring devices are always up to date and running the most current version of the software. PowerStream Plus is compatible with Microsoft® Windows® 10 (64-bit), Server® 2019, Server® 2016, Windows 7 (32-bit, 64-bit), and Windows Server 2008 R2.
Easy APIs and SDKs for full customization and integration
For OEMs and system integrators seeking to customize applications ranging from single-function operation to thorough integration, the complimentary Matrox PowerStream Plus SDK is available upon request. Further customize the appearance of your Matrox product—with new company naming, images, logos, colors, buttons, and identity—for greater ease of use and complete white label branding of Matrox hardware and software.
Compatible with Maevex Series products