Other Products
Matrox M-Series
M9120 Plus LP PCIe x16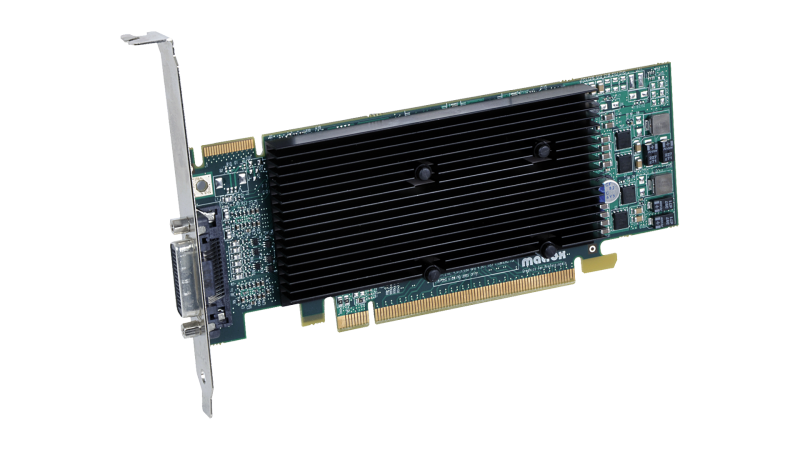 Drive Multi-Display Applications with Extraordinary Performance.
The Matrox M9120 Plus LP PCIe x16 low-profile, dual monitor graphics card renders pristine image quality on up to two displays, at resolutions up to 1920x1200 (digital) or 2048x1536 (analog) each. This card also supports up to four analog displays via an aftermarket quad-upgradeable cable, at resolutions of up to 1920x1200 each.
Matrox M9120 Plus LP PCIe x16 at a Glance
High-resolution dual monitor support: Support resolutions up to 1920x1200 (Digital) and 2048x1536 (Analog) per output

Native PCI express x16 performance: Maximum bandwidth to ensure best performance

Upgrade option to four monitors: Support four VGA displays via cable (CAB-L60-4XAF); enables up to 1920x1200 per output

512 MB of memory: For enhanced performance in demanding multi-monitor applications

Low-profile form factor: To fit in a wide variety of systems; includes bracket for full-height ATX form factor

Passive cooling and low power consumption: Fanless design eliminates noise and increases product reliability

Stretched and independent desktop modes: Expand your desktop across multiple monitors or set each monitor independent of each other

Edge Overlap: Easily and intuitively adjust the number of overlapping pixels to create a seamless, unified image on up to eight edge blending projectors.

M-Series multi-card support1: Add an additional M-Series card into the same system to drive up to 12 displays from two cards

Joined graphics card mode2: Insert two M-Series cards into the same system to drive even more monitors across a stretched desktop

Matrox Clone: View a copy of one display on the other displays

Wide enterprise flexibility: Unified driver package compatible with other Matrox products

Matrox PowerDesk software: Easily configure and manage program windows on multiple monitors

Multiple operating system support: Display drivers for Microsoft® Windows® 10 (32-bit, 64-bit; non-WHQL), Windows Server® 2012 (32-bit, 64-bit), Windows 7 (32-bit, 64-bit), Windows Embedded Standard 7 (32-bit), Windows Vista® (32-bit, 64-bit), Windows Server 2008 R1 (32-bit, 64-bit), Windows Server 2008 R2, Windows XP (32-bit, 64-bit), Windows Server 2003 and Linux®3
Hardware included
Matrox M9120 Plus LP PCIe x16 graphics card with factory-installed low-profile bracket (ATX bracket in the box)
LFH60-to- 2 x DVI-I dual-monitor adapter cable (1 ft)
Two DVI-I-to-HD15 connector adapters
Software included
---
1 Operating system, hardware and driver compatibility need to be verified for large monitor configuration arrays. Contact Matrox for details.
2 Available only under Microsoft XP and Windows 7 XDDM mode when M9188 is the additional card.
3 M-Series cards support a wide range of Linux operating systems. Refer to the README file in the driver download section for compatible Linux distributions or contact Matrox directly.
Matrox PowerDesk for M-Series
Effectively manage your computing environment with Matrox PowerDesk software. Included with all M-Series graphics cards, Matrox PowerDesk empowers you to manage and customize your multi-display setup for the ultimate computing experience.
Upgrade cables
Matrox quad analog upgrade cable
The Matrox analog upgrade cable allows users to increase their desktop from two to four monitors on certain Matrox M-Series and P-Series graphics cards. Working with more than one monitor improves productivity by allowing users to spread applications across multiple monitors.
Features
Easy upgrade to four analog monitors
Installation involves connecting the Matrox quad analog upgrade cable to a compatible Matrox M-Series or P-Series graphics cards and attaching your monitors to it.

Working with four monitors improves productivity.
Manage multiple applications and documents across your monitors with ease and just get more done.