Other Products
Matrox DualHead2Go Series
DualHead2Go Digital SE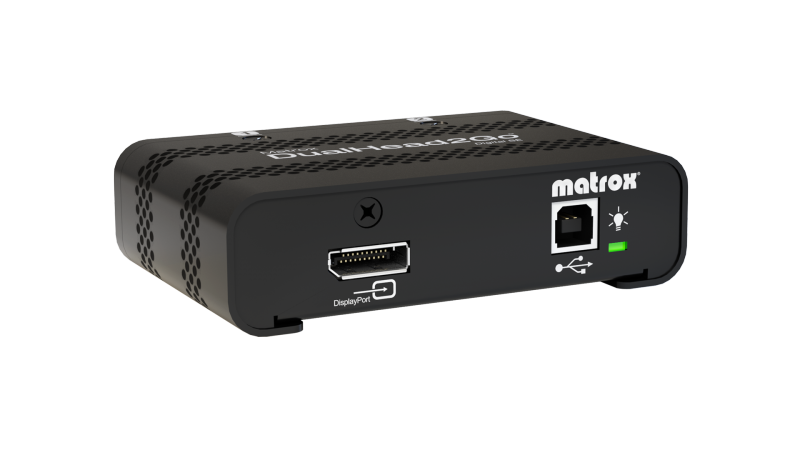 See more. Do more. Be more productive.
The Matrox DualHead2Go Digital SE external multi-display adapter adds up to two monitors to your laptop or desktop computer. It connects to the video output of your system and uses the system's existing GPU to provide high-quality, uncompressed graphics and video across all monitors. Ideal for business and professional users looking to increase their productivity with a dual display setup, this little black box lets you run different applications on each monitor or view one application across two monitors.

Matrox has publicly announced EOL notification in March of 2023 for the DualHead2Go Digital SE and expects this product will no longer be manufactured or sold by Matrox within approximately 6 months from this date. Order your product today to ensure availability or contact your Matrox representative for more details. Customers looking for the nearest product alternatives should consider the TripleHead2Go Digital SE.
Features
Lets you connect up to two monitors to the single DisplayPort video output of your system
Creates a stretched desktop of 3840x1200 (2x1920x1200)1 across two displays
Uses your system's existing GPU  to deliver a solid platform for office, 3D design, and multimedia applications
Open an application on each display or span one across the two
HDCP compliance for protected content playback
Works with displays and projectors
Quick and easy to install—there's no need to open the computer case or insert components
Spans taskbar across monitors for easy access to all your open applications
Runs in clone mode and shows the same content on all displays
Includes Matrox PowerDesk software to easily manage your desktop configuration
External device that won't void your system warranty
Expand your desktop further by connecting a second DualHead2Go  Digital SE to your graphics hardware to support up to four monitors at a time2
2-year warranty
---
1Displays attached to DualHead2Go must run at the same resolution. Please see the system compatibility information to verify the maximum resolution supported by your system.
2Certain conditions apply. Visit the Multi-GXM support page for further details.
PowerDesk for DualHead2Go
Take advantage of Matrox PowerDesk to fully benefit from your DualHead2Go appliance. PowerDesk enhances your PC computing experience and productivity with a vast array of customizable options. Now you can personalize your desktop to get the most out of your displays and make the most of your time.
Business productivity
Working with more than one monitor allows you to see more, do more, and be more productive. Use the extra screen space to spread applications across your desktop, much like you would spread printed documents across your desk. For specialized applications, such as financial services or day trading programs, viewing data across multiple monitors provides the ability to see critical information at all times for quick decision making and streamlined workflow.
Fit more data on your desktop
Organize your applications and information as you wish
Easily multi-task without the need to toggle between applications
Compare documents side-by-side
Digital signage
Drive two HD displays from a single player PC to create digital signage canvases of up to 4 million pixels. Unique in its ability to support two 1920x1080 monitors, the Matrox DualHead2Go supports a variety of widescreen resolutions for the display of high-quality, uncompressed digital content across multiple monitors.
And if two displays aren't enough? Connect multiple DualHead2Go units to create all sorts of cost-effective, versatile HD display configurations. DualHead2Go units can be used to improve and simplify digital signage applications such as digital menu boards, shopping mall kiosks, and ambience-enhancing installations—to name a few.
Media creation & DCC
As an artist or digital content creator, you need multiple palettes, menus, bins, controls, and toolbars in your applications. Spread out your projects, work more comfortably, and increase your productivity with a Matrox DualHead2Go-powered multi-monitor setup. The extra screen space will allow you to view more layers of video on the timeline, increase the size of your video scopes and frame viewers, as well as customize your entire workspace to improve your workflow.
Maximize your studio real estate
Transform your laptop into a productivity powerhouse
Comfortably edit video content on your Mac notebook computer
CAD design & GIS
Take advantage of increased desktop space when using CAD software. Work on your design drafts, architectural models, or plans across multiple monitors. Expand your perspective and arrange application windows so you can complete your work more quickly and efficiently. Add two monitors to your notebook computer for a full surround 3D design experience.
ProAV
Benefit from panoramic images and visuals by integrating Matrox DualHead2Go into your ProAV installations. DualHead2Go delivers impressive visual experiences in a variety of environments, including conference rooms, education, worship and training and simulation.
Technical specifications
Product
Part Number

D2G-DP2D-IF

Connectivity
Video Input

Connectors:
1x DisplayPort

Video Output

Connectors:
2 x DVI-D (digital only outputs) 

Multi-Unit Support

Yes (available under Windows only)
System compatibility
System compatibility
DualHead2Go Digital SE is compatible with a wide range of notebooks and desktop computers. Please see the system compatibility information for more details.
List of supported resolutions
| Resolution | Refresh Rate |
| --- | --- |
| 1600 x 600 (2x 800 x 600) | 60Hz |
| 2048 x 768 (2x 1024 x 768) | 60Hz |
| 2048 x 1536 (2x 1024 x 1536) | 60Hz |
| 2560 x 720 (2x 1280 x 720) | 50 1, 60Hz |
| 2560 x 768 (2x 1280 x 768) | 60Hz |
| 2560 x 800 (2x 1280 x 800) | 60Hz |
| 2560 x 960 (2x 1280 x 960) | 60Hz |
| 2560 x 1024 (2x 1280 x 1024) | 60Hz |
| 2560 x 1536 (2x 1280 x 1536) | 60Hz |
| 2560 x 1600 (2x 1280 x 1600) | 60Hz |
| 2560 x 2048 (2x 1280 x 2048) | 50Hz 1 |
| 2720 x 768 (2x 1360 x 768) | 60Hz |
| 2800 x 1050 (2x 1400 x 1050) | 60Hz |
| 2880 x 900 (2 x 1440 x 900)  | 60Hz |
| 3200 x 900 (2x 1600 x 900) | 60Hz |
| 3200 x 1200 (2 x 1600 x 1200) | 50 1, 60Hz |
| 3360 x 1050 (2 x 1680 x 1050) | 60Hz |
| 3840 x 1080 (2x 1920 x 1080) | 60Hz |
| 3840 x 1200 (2 x 1920 x 1200)  | 50Hz 1 |
| 3840 x 1200 (2x 1920 x 1200)  | 60Hz |
| 4096 x 1152 (2 x 2048 x 1152) | 60Hz |
1 This mode runs at 50Hz which may be incompatible with some displays. Verify with your display vendor for compatibility.
Supported resolutions are GPU dependent. Please see the system compatibility information to verify the maximum resolution supported by your system. All displays attached to DualHead2Go must run at the same resolution.