Video Wall Products
Matrox LUMA Pro Series
LUMA A380P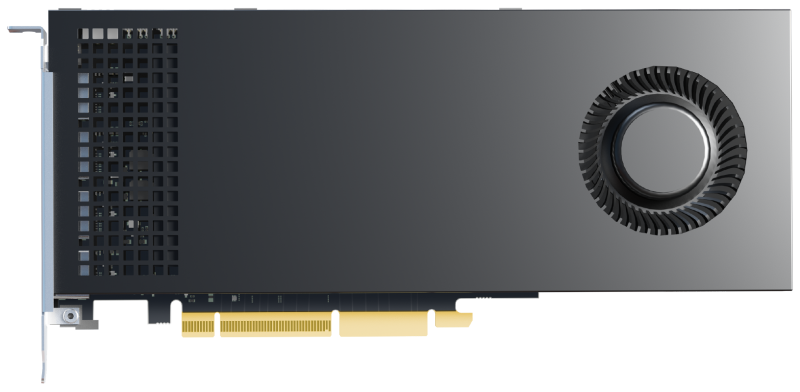 Superior IP-based digital signage and video walls
Drive two 8K displays—or two 5Kp120 displays—or up to four synchronized high-resolution displays or projectors from a single Matrox LUMA Pro Series graphics card. A single-slot PCIe® 4.0 x8 card with four native DisplayPort™ 2.1 connectors, A380P delivers superior graphics performance for today's 8K HDR applications. For OEMs, system integrators, AV installers, and developers looking to create custom control functions, we also offer a complete range of video wall software, APIs, SDKs, and libraries.  Matrox LUMA Pro Series is powered by Intel® Arc™ graphics.
8Kp60 HDR support and 5K resolution support
Synchronized video outputs
Drive multi-display 8K HDR video wall applications
LUMA Pro Series allows you to create powerful IP-based video walls with fewer components and smaller systems with the built-in MURA SDK media codec engine.
Low power. Maximum efficiency.
LUMA A380P's low power consumption at 75W offers vendors simpler integration and a lower cost of ownership. Its low power consumption means you can install multiple cards in one system while using less power. LUMA A380P also eliminates the need for external power supplies.
Perfect synchronization. Smooth image display.
Drive up to sixteen synchronized displays and reduce tearing by framelocking up to four LUMA Pro cards together using board-to-board framelock cables. Also, save slot space—a separate card isn't needed for the synchronization.
With up to 6 GB of graphics memory, A380P graphics card brings superior video playback and performance to a wide variety of video wall applications. Support for Microsoft® DirectX® 12 Ultimate, OpenGL® 4.6, OpenCL™ 3.0, Vulkan® 1.3, and Intel® oneAPI Video Processing Library (oneVPL), and OpenVINO™ enables you to run the latest professional applications. Finally, secure connectors on the boards prevent the risk of loose cabling.
HDCP compliant
LUMA Pro Series is designed for a range of multi-display desktop applications in control rooms, enterprises, industries, government, military, pro AV, digital signage, security, and more. HDCP compliance makes it possible to display protected content on video walls, or to capture and display protected content when paired with Matrox Mura IPX capture cards.
Benefit from a product longevity of seven years and dedicated customer support. A380P carries a three-year warranty and has an available extended warranty to ensure maximum protection.
From cables and adapters to shelves and brackets, Matrox Video provides a range of hardware accessories that make connecting, installing, and securing your Matrox Video product quick and easy.
Matrox video wall products are supported in numerous non-validated, COTS motherboards and systems but a select few of these solutions have been thoroughly tested, verified, and validated by Matrox Video. Choosing a validated platform guarantees a high-quality solution to drive your display wall systems. 
Customize your setup with Matrox PowerDesk™ desktop management software (available for Windows). PowerDesk offers professional clients a comprehensive set of tools to deploy and control a variety of display configurations, including stretched or independent desktops, clone mode, pivot, bezel management, edge overlap, and more.  
Matrox MuraControl video wall management software provides an easy and intuitive way to manage your Matrox-based video wall, multiviewer, or personal video wall locally or remotely. Available as a feature-rich, single-license software for Microsoft® Windows®, MuraControl can be used to create and manage layouts offline or in real time.
Build custom applications
As part of our video wall portfolio, the LUMA Series graphics cards also offer a complete range of video wall software, APIs, SDKs, and libraries, allowing OEMs, system integrators, AV installers, and developers to create custom control functions and applications for any video wall installation. 
Product
Part number
LUMA-A380P
Bus type
PCIe 4.0 x 16 (x8 electrical)
Number of video outputs
4
Video output connectors
4x DisplayPort
DisplayPort specification
2.1 UHBR10
Maximum number of cards in a system
4