Video Wall Products
Matrox QuadHead2Go Series
QuadHead2Go Q155 Multi-Monitor Controller Card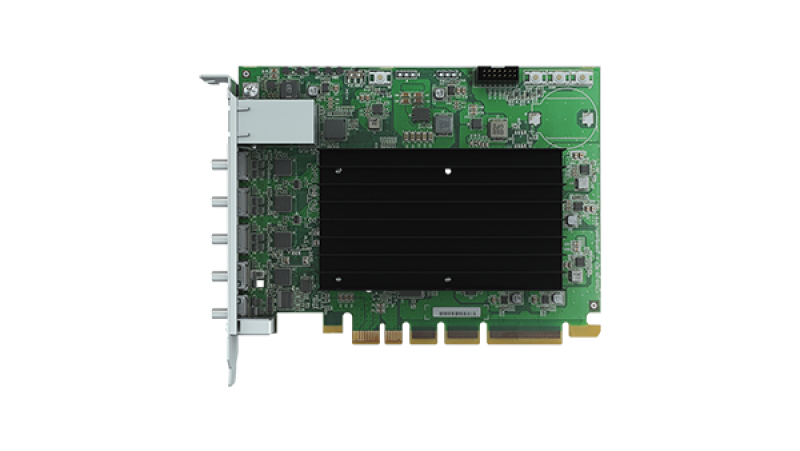 Fast. Easy. High-Density Video Walls.
Drive up to four Full HD displays from a single video signal—of up to 4Kp60 and 8Kx8K—at full RGB 8:8:8 and YUV 4:4:4 color support. The Matrox® QuadHead2Go™ Q155 multi-monitor controller card is a single-slot PCIe® card designed to power any video wall configuration of any possible dimension, from any HDMI® video source. QuadHead2Go's pre-set configurations and built-in images simplify the installation experience.
Engineered for flexibility
Synchronized video outputs
Crop, scale and/or rotate at 90°, 180°, or 270°
Control via IP with software or APIs
On-device buttons for easy configuration
Ready to deploy. Right out of the box.
Set up without installing software or even connecting a video source, by using the default configuration of 2x2 in landscape.
Reduce setup time by using QuadHead2Go's pre-set configurations and built-in images, together with display identification information that includes the ID number and the resolution of each output.
Eliminate physical handling by controlling and updating the cards remotely from anywhere on the network (LAN).
Ensure compatibility with professional-grade graphics cards and media players with HDMI support.
Create a video wall from any content source—professional graphics cards and integrated GPUs, video wall controllers, digital signage players, media players, decoders, laptops, NUCs, set-top boxes, gaming consoles, and more.
Build your wall with the touch of a button
On-device buttons make it easy to select and set the display layout—simply cycle through pre-set configurations. Set up display positions, fine tune bezels, and also troubleshoot with ease, by accessing the built-in or pre-saved images directly from the appliance, together with display identification information that includes the ID number and the resolution of each output.
Smallest footprint. Highest density.
Drive up to four Full HD displays from a single video signal from a single PCIe® card. A native network jack on the card eliminates reliance on the host computers' network. PC independence means there's no need for a driver and no system bus data transfer is required or executed—only power is taken from the host system's PCIe bus. QuadHead2Go cards can be placed into available slots in existing systems without compromising system integrity and stability, and make minimal power consumption demands of the PC system.
Scale your video wall. Easily and infinitely.
Rotate and position outputs independently from one another
Design modern and artistic video wall layouts with free rein—each output can have its own resolution, be independently rotated (90, 180, and 270 degrees), cropped, upscaled, downscaled, and positioned anywhere.
Create or expand large-scale video wall solutions
Expand to a video wall configuration of any size by using multiple QuadHead2Go cards. Fashion countless forms of setups—arrange displays in 4x1, 1x4, 2x2, 3x1, 1x3, 2x1, or 1x2 rectangular configurations, in portrait or landscape, or other non-rectangular/artistic configurations—and combine/scale them to create large-scale video walls.
Proven video wall ecosystem
Drive up to 64 1920x1080p60 displays and create captivating video walls by pairing QuadHead2Go multi-monitor controllers with Matrox LUMA or Matrox D-Series graphics cards.
Capture and display HDCP-protected content with QuadHead2Go multi-monitor controllers.
From cables and adapters to shelves and brackets, Matrox provides a range of hardware accessories that make connecting, installing, and securing your Matrox product quick and easy.
Designed to simplify large video wall installations
Install and use PowerWall software in offline mode to customize configurations of any type and size, and control the outputs independently—even before establishing an active connection to QuadHead2Go. Set the display layout by simply selecting any of the pre-set configurations from the PowerWall interface.
LEARN MORE ABOUT POWERWALL SOFTWARE
Build custom applications
For OEMs and system integrators seeking to customize applications ranging from single-function operation to thorough integration, the complimentary Matrox QuadHead2Go REST API is available upon request. Further customize the appearance of your Matrox product—with new company naming, images, logos, colors, buttons, and identity—for greater ease of use and complete white label branding of Matrox hardware and software.
Part Number

Q2G-H4K-C

Form Factor

PCIe® x16 mechanical, x1 electrical (power only)