Encoders & Decoders
Matrox Maevex 5100 Series
Maevex 5100 Series Encoder & Decoder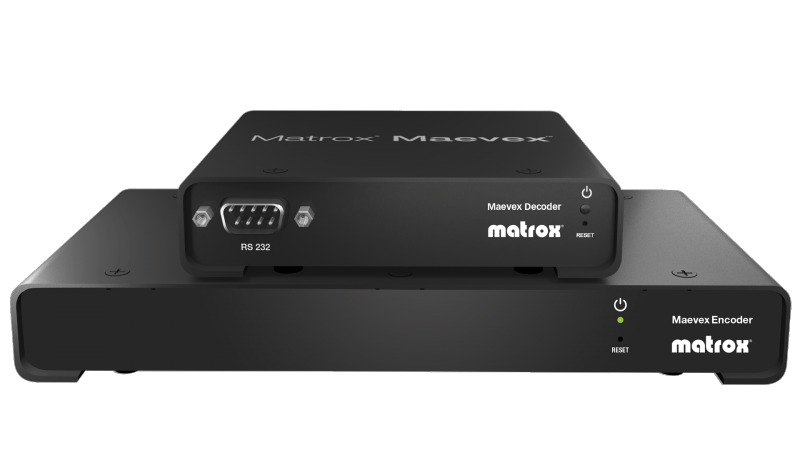 Affordable Full HD, Low-Bandwidth AV-over-IP
The Maevex 5100 Series encoders and decoders can stream or record up to 1080p60 video and audio over a standard IP network at user-defined low bitrates for excellent quality and minimal network bandwidth consumption. These cost-effective single-channel Full HD encoders and decoders use the RTSP streaming protocol and the H.264 video compression standard. The Maevex 5100 Series encoders can stream to Maevex decoders or any device or PC that supports H.264 and RTSP. It can also record to a shared network or NAS drive. Highly energy-efficient, fanless and backed with industry-leading reliability, the Maevex 5100 Series is sure to meet your encoding/decoding needs.
Coupled with Maevex PowerStream Plus Software, the Maevex 5100 Series delivers reliable, easy, and flexible discovery and management of all Maevex devices and features, including even the Maevex 6100 Series devices, ensuring complete reach and control over the entire Maevex network.
Encoding
Encode/record up to 1920x1080p60 and 1920x1200p60 video and audio

H.264 compression for high-quality, low-bandwidth AV-over-IP

Support for wide-screen and standard aspect ratios and many resolutions

Scale streams before distribution for lower bandwidth consumption

HDMI or analog audio support

Open encoding allows for third-party software decode (e.g. VLC)
Network management
Operates on standard 100/1000Mb Ethernet networks

Auto-detect and discover Maevex units on subnet (DHCP server required)

Full/half-duplex mode and static IP address support

CBR, VBR support

Encoding bitrate control (100 Kbps – 25 Mbps)
PowerStream Plus control software
Remotely manage the entire Maevex network from one application

Compatible with Maevex 5100 and 6100 Series

Fine-tune encode/decode parameters and adjust bitrates

Conveniently access IP address, bitrate, and other vitals

Scale and crop content to fit different outputs

Included with Maevex 5100 (free download)
Other benefits
Daisy chain decoders and extend network via integrated network switch

Failure resilience—power, network, and device auto-recovery features

Reliable, solid-state, energy-efficient design

Local real-time pass-through and confidence preview on encoder

PowerStream-controlled user access from secured PC

Detailed LED indicators for easy and effective troubleshooting

Customizable bitmap for encoder/decoder splash screen

Rackmountable with optional rackmount tray and accessories
Recording
Record up to 1920x1080p60 and 1920x1200p60 to NAS or shared network drive

Control frequency and duration of recording

Schedule the start time and date of recording sessions

Recorded user-defined file name includes timestamp for easy file management
Failsafe
Play back pre-recorded content at the decoder in case of a network disruption or if encoder stops streaming (e.g. loss of power)

Programmable time delay before failsafe activates

Resumes last streaming activity upon power return
Maevex SDK
PowerStream Plus SDK
Based on easy-to-use .NET programming language for Windows and Mono for Linux

Supports rapid customization and command-level access
REST API
Lower-level API for even greater flexibility and direct access to Maevex 5100 units

Flexible and portable software development
Complete reach and control
Discover devices, manage content, access hardware, and monitor all streams and recordings from any location on the network via the robust Maevex PowerStream Plus software. Included with the purchase of Maevex hardware, PowerStream Plus renders both generations of Maevex products entirely monitorable, configurable, manageable, and updateable via an intuitive and easy-to-use application. PowerStream Plus can be installed on any network-connected computer.
Easily tailor operations by integrating PowerStream Plus features into existing applications or create new software applications with the PowerStream Plus SDK—available for both Windows® and Linux®. A REST API is also available for more flexible and portable software development and more direct access to Maevex devices.
Easily build new applications or integrate the functionalities of PowerStream into existing applications with the Matrox PowerStream Plus SDK. Further customize the appearance of your Matrox product—with new company naming, images, logos, colors, buttons, and identity—for greater ease of use and complete white label branding of Matrox hardware and software.
Product
Part Number

Encoder—MVX-E5150F

Decoder—MVX-D5150F

Form Factor

Encoder:
Standalone appliance 
Rack-mountable: 1U, 2-unit density (horizontal) 

Decoder:
Standalone appliance
Rack-mountable: 1U, 1/3 rack (horizontal)
Network Administrators Can Use Matrox Powerstream™ Software to Remotely Discover and Monitor the Status of Multiple Maevex Encoders and Decoders on a Subnet (And Even Those Manually Added Outside the Subnet), Plus Fine-Tune Maevex Encoding and Decoding Parameters.
Matrox PowerstreamTM Software Gives Network Administrators the Flexibility to Assign and Switch Between Specific Source Streams at Each Maevex Decoder or Select Multiple Maevex Decoders and Assign the Same Source Stream to All Devices in That Group.
Matrox PowerStream Software Allows Administrators to Easily Adjust Maevex Encoding Parameters, Including Audio and Video Bit-Rates, Video Encode Resolution, Frame Rate, and Even H.264 Detailed Stream Parameters Such as Group of Pictures and I, P, and B, QP.
Network administrators can use Matrox PowerStream to conveniently schedule recording or start recording immediately to NAS or a shared network drive.
Matrox PowerStream™ allows administartors to select between local real-time pass-through or confidence preview with scaling and forced output features on the Maevex encoder.
Network Administrators Can Verify the Connection Status of Their Matrox Maevex Encoders, While Configuring Their Connection Settings and IP Address.
Administrators Can Choose Between Relayed Serial Over IP or Direct Over IP Communication to Attached Devices and Allow for Remote Third-Party Control of Those Devices.
Use Matrox PowerStream Software to Change a Wide Variety of Maevex Decoder Settings Including Source Content, Stream Address, Routing Schemes, Display Resolutions and More.
In Matrox PowerStream, Network Administrators Can Easily Choose Which Source Content to Output, as Well as Switch Between All Available Streams at Each Maevex Decoder.
Use Matrox PowerStream Software to Change Maevex Decoder Settings, Including Routing Schemes (Unicast vs. Multicast).
Matrox PowerStream Software Enables Variable and Independent Display Configurations at Each Maevex Decoder; Administrators Can Force a Specific Resolution and Can Scale or Crop the Decoded Output Independently of the Stream to Allow Administrators to Fit Their Output to Almost Any Display.
Enable the Failsafe Feature to Automatically Play Pre-Recorded Content on Screen in the Event of a Lost Network Connection That Interrupts Streaming From a Matrox Maevex Encoder.