Encoders & Decoders
Matrox Maevex 6100 Series
Maevex 6152 Quad 4K Encoder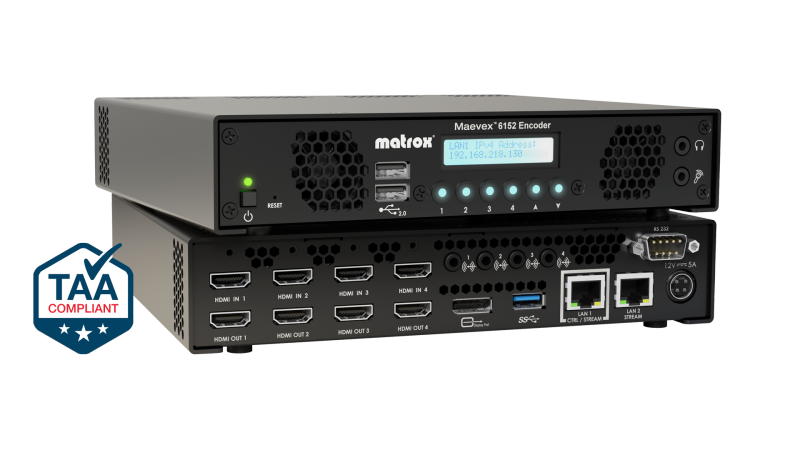 Quad 4K encoding at ultra low latency
Matrox® Maevex 6152 is a quad HDMI® video encoder that delivers 4K60 input capture and encode, and supports at least four 4K streams and recordings—simultaneously. The encoder features six streaming protocols, multiple chroma sub-sampling, adjustable encoding parameters, zero-latency pass-through, and compositing, all in a convenient, quiet, low power, rack-ready appliance that fits almost any encoding application. The complimentary Maevex SDK enables you to build new applications or integrate the functionalities of PowerStream Plus into existing applications. TAA compliant SKU available.
Flexible 4K streaming and recording
Quad 4K input with zero latency pass-through
HDCP 1.4 and 2.2 compliant
H.264 advanced video coding
Centralized management via PowerStream Plus or APIs
Low latency streaming. High quality experience.
Achieve zero-latency pass-through for real-time output of audio/video content on up to four 4K displays. This H.264 encoder integrates seamlessly into existing infrastructures and interoperates with virtually any network device, ensuring high-density content distribution and system scalability—all without sacrificing quality. Maevex also uses existing 1 Gigabit Ethernet infrastructure to allow many streams of any quality to be transmitted on a single cable, eliminating the need for a dedicated distribution network. The Maevex 6152 encoder can have latency as low as 16 ms.
Flexible protocols. Secure streaming.
Enjoy a variety of streaming protocols—HLS, MPEG2-TS, RTP, RTMP, RTSP, and SRT—for trouble-free streaming. Support for the Secure Reliable Transport (SRT) video transport protocol means that secure, low-latency, and high-performance streaming is also realized on noisy or unpredictable networks such as the public Internet. Whether you're dealing with a stable LAN connection, a limited WAN pipeline, or an unpredictable Internet transport, Maevex has the right streaming protocol for the job.
Benefit from up to 4K/UHD 4:4:4 sub-sampling support and H.264 compression for best-in-breed encoding. The multi-chroma sub-sampling feature delivers 4:4:4, 4:2:2, 4:2:0, and 4:0:0 options, to best balance bitrate and compression demands of different encoding content, environments, and markets. User-definable bitrates and quantization parameters, as well as various encoding modes to optimize for desktop, low-latency, or image quality.
Quad stream and record. Anywhere, at the same time.
Maevex 6152 delivers content to on-premises end points, over the LAN, WAN, and internet, feeds cloud-based servers, and records to local or network storage for later editing and viewing. The Maevex 6152 encoder can also transmit live and/or recorded content for multiple video-on-demand platforms—such as Facebook® Live, YouTube®, Twitch, Wowza®, Vimeo®, IBM® Video Streaming, and Restream, to name a few.
Rack mountable. Ultra quiet operation.
Support up to eight 4K streams and recordings from a single U of rack space. The Maevex 6152 encoder is stand-alone appliance housed in a 1U ½ rack width. Place the appliance on the desktop, workstation, or rack, and it's ready to use.
And its whisper-quiet operation means that Maevex is made for control rooms, operation centers, and other critical environments that require a noise level of 25 dB and less.
Control is just a touch away
An on-device LCD display shows device IP and stream addresses, system information, and other urgent content for easy installation and troubleshooting directly on the device. Six on-appliance buttons—to read and/or control the LCD display and start/stop streaming and recording—provide all the control you need with a simple press of a button.
Always powered. Always on.
Safeguard against a potential loss of power. Matrox makes available rack-mounted, multi-output redundant power supply units (RPSU) to ensure uninterrupted operation of your Matrox device in case of a power module failure and a redundant power input in case a circuit breaker trips.
Complete reach and control
Discover devices, manage content, and monitor all streams and recordings from any location on the network with PowerStream Plus software. Included with the purchase of Maevex hardware, PowerStream Plus makes it easy to manage and update both generations of Maevex products via a single application. PowerStream Plus can be installed on any network-connected computer.
Easy APIs and SDKs for full customization
Easily build new applications or integrate the functionalities of PowerStream Plus into existing applications with the Matrox Maevex SDK. Further customize the appearance of your Matrox product—with new company naming, images, logos, colors, buttons, and identity—for greater ease of use and complete white label branding of Matrox hardware and software.
Product
Part Number

MVX-E6152-42

Form Factor

Standalone appliance

Rack-mountable: 1U, 1/2 rack (horizontal)