Infrastructure Products
ST 2110 Signal Generator & Diagnostic Appliance
VERO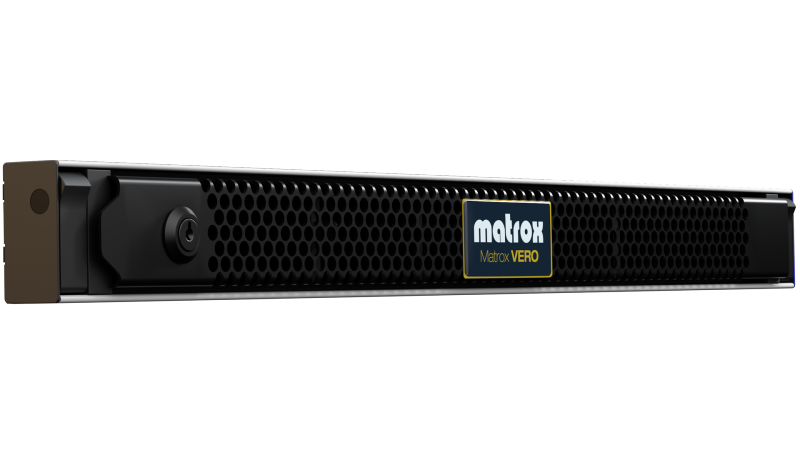 ST 2110 Signal Generator and Diagnostic Appliance
Matrox VERO is an essential tool for broadcasters, system integrators, and manufacturers of ST 2110 devices and environments. Matrox VERO integrates the components required to allow users to confidently validate ST 2110 devices for compliance before deployment. Matrox VERO combines an adjustable signal generator, a PCAP recorder, and signal diagnostics integrating EBU LIST into a single appliance with an intuitive, web-based GUI.
Adjustable reference sender
Matrox VERO provides an adjustable ST 2110 reference sender that allows users to test receiver compliance in ideal circumstances, as well as receiver resilience in worst-case scenarios. Packet timing can be set to simulate a variety of senders, including narrow, narrow linear, and wide. User-defined RTP timestamp offsets can simulate network delays and test a receiver's ability to adapt to them.
Diagnosing ST 2110 networks requires the ability to capture raw, high-bandwidth Ethernet traffic in PCAP format for analysis. Network traffic – especially when it contains UHD video flows – cannot be easily captured to disk as raw data without timing errors and severe packet loss. Using precise, hardware-based timestamping along with hardware-accelerated transfers, Matrox VERO can capture a perfect replica of network traffic in a PCAP file for ST 2110 diagnosis.
Convenient EBU LIST® integration
Analyzing ST 2110 environments requires multiple tools. Matrox VERO provides all the necessary components required to successfully diagnose ST 2110 setups. Recognizing the contributions of the European Broadcasting Union Live IP Software Toolkit (EBU LIST®) – a widely respected and essential tool for diagnosis – Matrox VERO also comes with a pre-installed copy for user convenience and access.
Matrox VERO provides a full range of video resolution support, including HD, Full HD, and UHD up to 60 FPS. Matrox VERO features two independent output channels, each capable of generating one video, up to four audio, and one ancillary data flows. Each of the two channels can also be dedicated to independent video resolutions and frame rates, which allows ST 2110 equipment manufacturers to verify multiple resolutions simultaneously, including support of ST 2022-7.
Computer graphics are essential for broadcast applications. While key signals have traditionally been transported as video, ST 2110 provides a pixel group construction specifically dedicated to a key channel. In order to help test these graphic-intensive workflows, Matrox VERO supports the generation of fill and key ST 2110 flows for HD and UHD.
Matrox VERO comes with a number of predefined ST 2110 profiles, including all of the necessary video formats, and associated audio and ancillary data flows that are most commonly used in the broadcast industry. Matrox VERO also allows users to select from available preset parameters or customize profiles based on their own use cases. An unlimited number of unique profiles can be easily saved to the device, and each profile can be loaded instantly without the need to re-enter data.
Intuitive web-based interface
Matrox VERO is a web-based application with an easy to use interface. It is designed to work with any web browser without additional software installation requirements. By simply entering the IP address of the Matrox VERO device in their web browser's address bar, users can easily generate ST 2110 streams and operate diagnostic tools from anywhere on the network using any PC, tablet, or mobile device.