Increase Operator Efficiency With Multi-System KVM Control
The control room plays an essential role in many environments, where operators centrally manage the flow of information and ensure the smooth running of operations. In the control room, operational efficiency can be achieved through multi-monitor IP KVM products that allow users to operate multiple systems from one remote workspace. Matrox Extio 3 IP KVM extenders facilitate the design of secure KVM Matrix systems over IP using standard 1GbE networking infrastructure. With Extio Aggregator Mode, the overall workflow is further streamlined by enabling operators to simultaneously view and control multiple computers from a remote workspace using a single keyboard and mouse.

Seamless mouse switching
Move the mouse to a target desktop to automatically shift the focus from one system to another.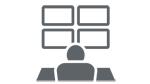 Flexible monitor configuration
Offers a wide range of multi-monitor layouts (2x2, 4x1, 3x1, 2x1) for the remote user station.

Unified view
Easily create multiple aggregated layouts—view up to four systems on one 4K display in tile view, or map each system to a screen.

Touch screen support
All the power of Extio 3 at the tip of your fingers. Interact with connected monitors using touch-screen gestures.

Smart audio management
Quickly manage the audio options of multiple systems. Lock the audio stream to a display or tile, or switch audio with the mouse.

Discreet solution
Built-in functionality eliminates the need for additional software installation on the source system.
4K Tile view
The Tile View feature provides an extra layer of convenience by displaying up to four video sources on one screen. With the ability to monitor four separate systems on one 4K monitor, Tile view offers an even more efficient way to control multiple systems from a single remote workspace. Extend up to four systems over IP to a single Extio 3 receiver device, and monitor them on a single 4K display, or extend up to eight systems and monitor them across two 4K displays. By moving the mouse across a multi-screen desktop, control shifts instantly from one computer to another.
Multi-monitor workspace
Speed and efficiency are absolute musts in today's control rooms. Aggregator Mode offers multi-system control from a multi-monitor workspace. Each desktop can be mapped to a unique screen. A user can take control of the system by simply moving the mouse to a target desktop. They can switch between systems reliably, securely, and in real time.
Dynamic switching, dynamic results
In scenarios where operators need the switching capability only on one of their screens, they can optimize their workflow with the Dynamic Switching feature. The on-screen-display menu provides a global view of all systems that they can instantly connect to and bring up on one of their displays, while they remain connected to their main systems on the other displays.
Dynamic Switching offers a convenient, easy-to-use operation to quickly and easily connect to any computer on the network.
A smarter way to work
For applications ranging from process control and surveillance to military and broadcast, Aggregator Mode provides these control room operators with the ultimate in operational efficiency.