KVM Extenders
Matrox Extio 3 Series
Extio N3208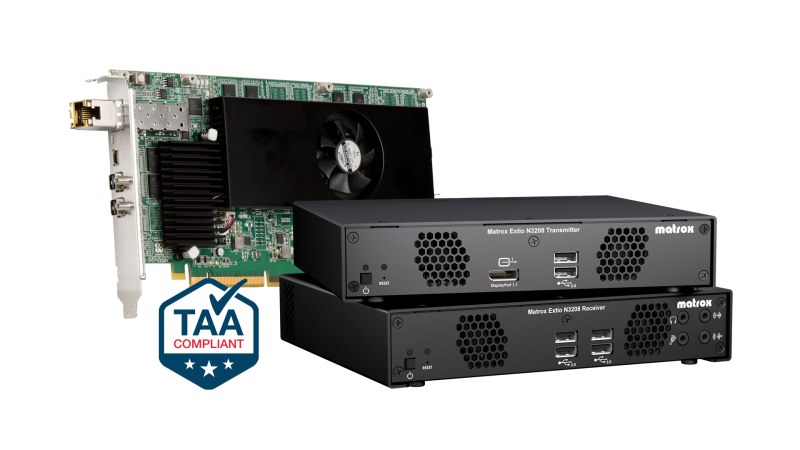 Secure IP KVM control for critical workflows
Matrox® Extio N3208 IP KVM supports dual displays (2x 1920x1200 @60Hz) or a single high-resolution display (2560x1600 @60Hz) along with keyboard and mouse, USB 2.0, and audio signals at unprecedented low bitrates over standard Gigabit Ethernet. Easy to set up, Extio N3208 can be configured as a point-to-point extender or KVM over IP, delivering multiple video, keyboard, mouse, USB 2.0, and audio signals over a single fiber optic or copper cable. Ready compatibility with standard network switches significantly diminishes the total cost of ownership to deliver a scalable, secure, and cost-effective KVM matrix switching solution. TAA compliant SKU available.
Multi-monitor KVM over a single fiber optic or copper cable 
KVM matrix over IP with fast switching
Secure KVM with encryption
Longer distance over WAN or Internet
Connect further and faster
Extio 3 KVM extenders support 4:4:4 applications at low bitrates over standard 1 GbE networks. Featuring two DisplayPort™ connectors, Extio 3 also extends multi-display desktops extender and delivers multiple video, keyboard, mouse, USB 2.0, audio, and RS232 signals with a single pair of KVM transmitter and receiver units—over LAN, WAN, or internet—for the ultimate KVM matrix over IP.  
Deploy flexible, scalable, secure configurations - easily
Whether deployed as point-to-point extenders or as KVM over IP, KVM extenders offer the flexibility to adapt to your installations as demands change. With the power to create flexible, scalable, and secure KVM matrix-routing using standard network switches, Extio 3 enables you to easily expand your installations with confidence and without costly upgrades to help future proof your investment.  
Fast multi-monitor, multi-system control
View and operate two source computer systems from any Extio receiver unit and control them with a single keyboard and mouse set. Seamlessly shift control from one target source system to another simply by moving your mouse across a multi-screen desktop. 
With Aggregator Mode, you can shift from the current desktop to the next by moving the mouse freely across multiple desktops. 
To ensure sensitive information remains protected, Extio 3 features built-in protections to prevent security gaps, and doesn't require software to be installed on the source system. 
Advanced Encryption Standard (AES) to encrypt signals between transmitters and receivers 
Password and user management with Microsoft® Active Directory® 
802.1x port authentication and IGMPv3 to prevent unauthorized devices from accessing your network 
Syslog support to monitor and record KVM device and user activity
High availability & redundancy
Build redundancy and fault tolerance into your installations. Supporting a distributed model of operation, Extio 3 removes single point of failure by storing all device settings and connectivity rules in each transmitter and receiver unit. Extio 3 appliances also feature two network interface ports that are configurable for link redundancy. 
The ultimate IP KVM for Broadcast and Media
Working with standard COTS network switches, Extio 3 IP KVM extenders offer broadcast environments a best-in-class KVM extension and switching solution over IP that is scalable and cost-effective. With Extio 3's Aggregator Mode, you can access up to two systems simultaneously, and switch between sources with just a single keyboard and mouse. 
Fits into any environment
Designed for collaborative workspaces, Extio 3 is ideal for any control room setting. And its 1U, ½ rack design means Extio 3 can fit into any rack mount or mounted under a desk or to the side of a cabinet. 
Always powered. Always on.
Safeguard against a potential loss of power. Matrox makes available rack-mounted, multi-output redundant power supply units (RPSU) to ensure uninterrupted operation of your Matrox device in case of a power module failure and a redundant power input in case a circuit breaker trips. 
Centrally manage all Extio 3 networked IP KVM devices
Secure, centralized management of all networked Extio 3 IP KVM extenders is overseen through Matrox Extio Central Manager, an easy-to-use software to configure, manage, and monitor Extio 3 transmitter and receiver units. Extio Central Manager delivers smart control over the network, with an intuitive interface that facilitates discovery of networked Extio units, manages connections, and offers options to set up device parameters. 
APIs and white-label options for ultimate flexibility
Integrators and developers gain command-level access to build personalized Extio Central Manager applications and/or integrate Extio 3 functionality into existing or even third-party applications. White-label options let OEMs and integrators customize the appearance of the Extio Central Manager user interface for easy re-branding of Matrox software with enterprise naming, logos, colors, and identity. 
Product
Part Number

Transmitter Appliance—XTO3-N3208TX

Transmitter Card—XTO3-N3208CTX

Receiver Appliance—XTO3-N3208RX
How to set up 4K tile view in aggregator mode with Extio 3 IP KVM extenders
How to use aggregator mode: A Fast-Track to Understanding Extio 3's Multi-System Control
Getting Started with Extio Central Manager—Part 1
Getting Started with Extio Central Manager–Part 2
How to set up for point-to-point operation
How to set up for networked operation
How to configure IPSec VPN on Extio 3 IP KVM extenders